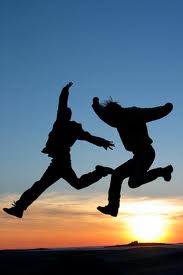 This time of year can be tough with what seems to be the dragging on of cold weather and lack of sunlight. Here's a top 10 list of what YOU do to get out of this lazy funk…

#1 Get Outside
Go for a walk, walk your dog or find a dog to walk. Participate in a winter activity like SnowShoeing, Cross Country or Downhill Skiing, Snowboarding, Snow Tubing, Tobogganing or Making angels in the snow:-)

#2 Eat more Fruits and Vegetables
Having a hard time with this one over the winter? Eat them steamed, in soups or roast them in the oven to get that warmth everyone craves during the winter. Or maybe try an amazing supplement like Juice Plus+ if you really struggle with getting all of your veggies and fruits in each day!  You could also make a Smoothie like this one posted in my previous blog.

#3 Have some Fun in Bed
Turn up the heat and your endorphins with your partner and frolick between the sheets!

#4 Get your Vitamin D
As Canadians, we don't get enough Vitamin D during the winter months. One way to increase this is by going outside everyday- if only for a walk around the block! You can also consume foods higher in Vitamin D like- salmon, tuna, eggs, cottage cheese and yogourt.

#5 Start planning your summer activities
Thinking ahead to the summer will bring about a sense of excitement and warmth! Plan a vacation or what you plan on doing this summer and see how your energy increases!!

#6 Have a Hawaiian themed party
Nothing gets the blood flowing like a good ol' party. Help your friends get out of their winter funk too!! Play island themed music, dress with bright colours, serve fresh fruits and veggies and have some fun with your friends and family!

#7 Get Exercising
Inside or outside.  It doesn't matter when or where, just start!  A program like ChicBoxing will keep your spirits high and bringing a friend with you so you can keep each other accountable.

#8 Eat Breakfast
And eat small, healthy meals/snacks regularly through the day! This will ensure to keep your energy levels up:-)

#9 Drink More Water
Your body is made up of approximately 60% water. If you're dehydrated it's no wonder your energy levels are down! In the winter it can be harder to get the water in so, I recommend having hot water with fresh lemon:-)

#10 Get Rid of the Sugar
Lots of sugar in your diet means an immediate, but short lived, energy boost. You will find your energy plummets quickly after consuming a high sugar food/meal. Try and consume foods higher in fibre and protein for more energy!
There you have it:-) Please feel free to add any other comments below on how YOU increase your energy in the winter.
Sara and the ChicBoxing Team