Guess who's back? Sara's back. Yes I'm back. Yes I'm back. Yes I'm back. Duh na na… (if you're not singing Without Me yet by Eminem then you need to listen here- https://www.youtube.com/watch?v=YVkUvmDQ3HY (start at 0:20)
My goal for 2018 is to give you guys some super awesome, amazing ideas, thoughts and ways to make your daily health and fitness goals and issues easier and help YOU be UNSTOPPABLE this year! Going back to basics and using the old BLOG as the tool, I've decided blogging is the easiest way for me to help YOU so here is the first post of many for the year.
First thing is first, may I ask you a favour?  Can you PLEASE call me out if you haven't heard from me in awhile? Go to Facebook and post something like, "Hey Sara! Haven't seen a blog post in awhile and I'd love your thoughts on X, Y and Z" or, "Sara… where the heck are you?? Get on your blog girl!!!".  Something along those lines will do just fine- and is much appreciated because, you see, being accountable to all of you is ONE of the ways in which I'm going to achieve my habit of blogging to motivate, inspire and communicate with you. My #1 goal for 2018 is COMMUNICATION.  This word idea came from one of our amazing members who messaged us on our private, members only FB page after I asked if anyone had goals for 2018 and she wrote the following (I personally think it is one of the BEST things I've read in awhile!)
"I approach resolutions in a different way now. I found when setting resolutions I ended up setting myself up for failure. I'd start out with great intentions but Life happens, things change & the resolutions I set just didn't happen or I didn't stick to them. Last year I decided to use words as my resolution. I have my words written out & posted in plain site for me to read them everyday. I think long & hard about what I want to achieve. My 2017 words were: Motivation, Truth, Change, Accomplish, Reuse & Reduce. These words empowered me to think how I'd approach each day. My 2017 words are still in use.
So far my 2018 words are GROW & CLARITY. I find words inspire & empower me to change or accomplish even the smallest things in life. ❤️"
WOW!! Can you say freaking POWERFUL!! It doesn't surprise me that this same lady just rocked our socks off of one of ChicBoxing's transformation challenges and actually walked away with a cash prize of $500 (Disclaimer: we don't have cash prizes with every challenge)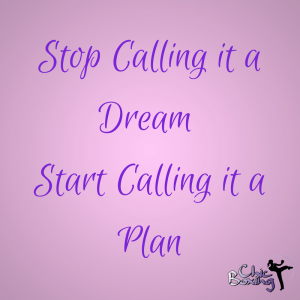 OK.. so what's the point Sara.. the point is as simple as 1,2, 3… literally…
1. Set a goal/word/intention today, tomorrow or even right NOW and write it down. (Try to make it a SMART goal   https://www.projectsmart.co.uk/smart-goals.php)
2. Find amazing, supportive people to be accountable to
3. Start immediately and DO IT!
Lastly, (ok, ok… maybe there are 4 steps…) sometimes the hardest part about a goal is wanting it bad enough. Understanding and writing down WHY you want it, how you will feel once you achieve it and the steps you will take in order to get there will help you become crystal clear on your goal AND help you achieve it-  the key is to read this statement EVERY DAY (I suggest first thing in the morning) until your goal has come to fruition. (yes, I know… step 5…but who's counting!)
Does this sound like something you can do?  Have you made a goal for 2018?  Maybe you made a goal in 2017 and you haven't completed it yet and you are finally REALLY READY complete it now….hey, it's not too late- PROMISE!!
Please share your goal with us on our Facebook page  www.facebook.com/chicboxing

  We love to know what your goals are!  If you need help in creating a goal for yourself here are some brainstorm ideas on Pinterest :  https://pin.it/ka2xwjv5ribev2
Until next time!!
Peace, Love and Jab-Cross Hook,
Sara Cairncross