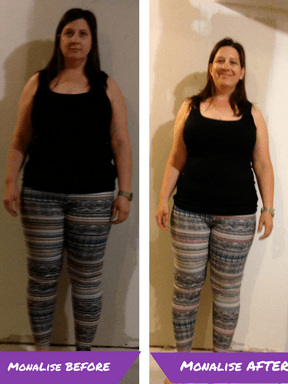 2 months ago I stumbled across the add for the 28 Day Transformation from ChicBoxing.
At that point in my life, I was searching for a way to enjoy life again, lose weight and just be happy. I took that plunge and not knowing what this journey was about I decided to give it a try.
It is a decision I will never regret. From teaching me to make myself a priority, learning how to meal plan and the effectiveness of grocery lists, this journey was a new way of life starting for me. I am a strong woman and I am proud to say I stuck to the "program" and have seen some amazing results : better energy, better sleep, a 13 lb weight loss and a 6" loss around the biggest part of my body, more happy thoughts and all around more positive person. I have eliminated caffeine (majority) from my diet as well as refined sugars and gluten, sugary snacks and night time snacking. I have also discovered that the headaches i've been experiencing for the last 10 years were probably due to the foods I ate and I am also proud to say that my anxiety has diminished as well.
The staff was amazing at motivating me during ChicBoxing classes and I have to say that receiving the daily emails, mini "cooking class" videos or having access to the facebook page was a great way to stay connected.
I now have a new # 1 cheerleader: MYSELF! I am strong and capapble woman and this lifestyle of clean healthier eating is an eye opener that I will be transfering to my children as well.
Thank you for this great opportunity for self reflection and I am not missing my old lifestyle at all!
- MonaLise D